FULL FUNERAL SERVICE* ~ Includes Professional Services, Facilities,(One Day Visitation), Automotive Equipment, Choice of Six Casket Selections), Cash Disbursements Additional. This Package only applies to Brockton deaths and Funerals conducted Locally, extra charges may apply. $4900.-
*Cemetery, Crematory, Vault, Urn, and additional cash disbursements Not Included
SHIPPING AND RECEIVING REMAINS FROM ABROAD* ~ Includes Transportation, Embalming, Choice of 6 Sealer Caskets as Required, Private Family Viewing prior to Shippment. $4000.

*Consulate Fee's and Air Freight Charges Additional*
You will receive the most Economical price and Highest Standard of Service selected. If you are not satisfied and you feel you have paid to much you owe NOTHING!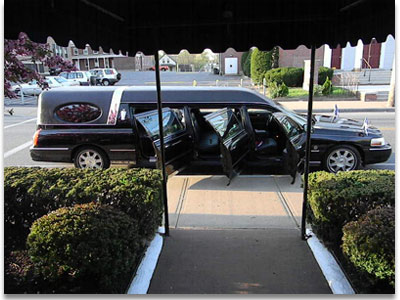 Funerarias Multi Culturel recently purchased a family hearse for the Cape Verdean Families who like their native country ride with their love one in the funeral procession

The biggest factor is the time element in terms of our personnel and the use of the funeral home facilities.
The maintenance of this service is unending; that is, it must be available 24 hours every day of the year.
Therefore, ours is a 168-hour week and not the 40 hour week which is the accepted standard.
Many phases of our work are apparent; others are not. The following analysis of some of these details will help you to understand that no two funerals are exactly alike. Traditions, customs, social standings, personal feeling, financial ability and a multitude of other influences affect each funeral. Our services must conform to each individual family's wishes and their personal and religious needs.
Generally, funerals are divided into nine categories:
A. PROFESSIONAL SERVICES
1. Preparation and care of the deceased, including embalming when necessary (except in certain special cases, embalming is not required by law. Embalming may be necessary, however, if you select certain funeral arrangements, such as funeral with viewing.)
Hygienically prepared to insure protection to personnel and the public. A deceased who has a contagious or infectious disease requires special care and treatment in excess of the regular preparation.

Shampoo and shaving

Embalming

Necessary feature restoring to provide the deceased with weight, because of loss due to illness.

Hairdressing

Dressing and casketing
2. Services of Funeral Director and Staff
a. Meeting with the family to:

• Secure vital statistic information

• Obtain obituary information

• Complete itemized cost agreement

• Select casket of their choice

• Oversee all aspects of the funeral and direct

b.

Coordinate times of the following services as needed:

ClergyFraternal Organizations Necessary automotive equipment for the convenience of family-including funeral hearse.Cemetery or Crematory HairdresserLodges and other organizations Civic AssociationsVeteran Associations


c.

Complete Death Certificate with vital statistic information


d.

Obtain the signature and medical information from the attending physician or medical examiner (coroner)


e.

File completed and signed certificate with Register of Vital Statistics in municipality where death occurred, and obtain a Burial Permit and as many certified copies as necessary, for the families needs.


f.

Call obituary information to all newspapers requested by family


g.

Care for all flowers (deliver to home, or cemetery)(arrange for best appearance)


h.

Remove all flower cards and sympathy cards for family to acknowledge


i.

Order prayer cards when applicable


j.

Complete all necessary forms such as:

V.A. for flagCemetery or Crematory V.A. for allowanceSocial Security V.A. for marker

State and Federal forms required by law.

Answer all telephone calls - give out funeral information to family, lodge members, business associates, florists and friends with regard to funeral services to be held, directions to the funeral home

The above services require an average of 80 man-hours per funeral.

The Licensed Funeral Director is available following the funeral services to assist the family in filing all types of insurance and government forms.


In addition to all the above, there are Licensed Funeral Directors and Embalmers, competent and understanding persons to answer the telephone, 24 hours a day, 365 days a year. A funeral home does not close

on weekends and holidays!


B. USE OF FACILITIES

1. Use of preparation room or holding room
2. Use of visitation rooms per day
3. Use of funeral service area for day of funeral


C. AUTOMOTIVE

1.

Removal vehicle to home , nursing facility, or hospital

2.

Hearse for funeral

3.

Flower and or clergy transport

4.

Extra vehicles and or / mileage


D. MERCHANDISE

1.

Casket of your choice ($440. and up)*

2.

Outside receptacle ( Burial Vault), MOST CEMETERIES REQUIRE ($495. and up)*

3.

Register book, acknowledgement cards, prayer cards, crucifix, temporary metal grave marker

4.

Cremation urns ($150. and up)*

5.

Any clothing the family may choose


E. RECIEVING REMAINS FROM ANOTHER FUNERAL HOME (OUT OF TOWN OR STATE)

F. FORWARDING REMAINS TO ANOTHER FUNERAL HOME (OUT OF TOWN OR STATE)


G. SHIPPING AND RECIEVING REMAINS FROM ABROAD $4000.-

Includes Transportation, Embalming, Choice of 6 Sealer Caskets as Required, Private Family Viewing prior to Shippment)
*Consulate Fee's and Air Freight Charges Additional*


H. IMMEDIATE BURIAL

J. CASH DISBURSEMENTS

This represents all of the monies that are to be paid in advance. These include:


• Cemetery lot and opening costs

• Clergy honorariums

• Medical examiner fees

• Organist and soloists fees

• Limousine rentals

• Burial permits

• Certified copies of the death certificate

• Newspaper charges

• Flowers

• Air transport if needed
* Prices subject to change